Android P's update is filled with with design changes, easy navigation and the devices learning from the user by the means of machine learning.
Release date of Android P
The Android P Beta is out already but the final version will be released in August. It will be available first for Google phones and probably make its retail debut in the Google Pixel 3, launching in October.
Android P beta: does it work with your phone?
Android P beta is supported on more devices than Android O beta was supported on. Here is an impressive list of compatible devices:
Google Pixel phones
Nokia phones
Vivo phones
OnePlus phones
Xiaomi phones
Sony phones
Oppo phones
The Essential Phone
What new does Android P bring to the table?
1. Adaptive battery life
One of the most promising features to be added is adaptive battery life. As the name suggests, your phone will adapt to your habits like how you use the installed applications. Using machine learning the device will be able to predict which apps you'll be needing in near future and which ones you probably won't. The battery is focused on the apps that are more likely to be used, this lead to a 30% reduction in CPU app wake-ups.
2. Adaptive brightness
Just like the adaptive battery, adaptive brightness involves the device learning from both the environment and the user, adjusting the brightness on its own. 50% of users who have tried out the adaptive brightness, no longer change the brightness manually and completely rely on the device's smart learning behavior.
4. App actions
Before, you used to see predicted apps in the top row of the app drawer. Now, that will be replaced by app actions which will predict what you will do next, again learning from your daily habits. Your phone is slowly turning in to your best friend who knows you from the inside out. Loving it or its getting creepy?
5. App slices
App slices won't be available with Android P launch, but Google is issuing an API to developers to create more shortcuts around its operating system interface. An example of this was shown at the Google I/O 2018, with the Lyft app. When you search for 'Lyft', it will provide the app as an answer and also shortcuts to your top destinations, like work and home. App slices via the search bar can extend to Google Photos as well.
6. New System Navigation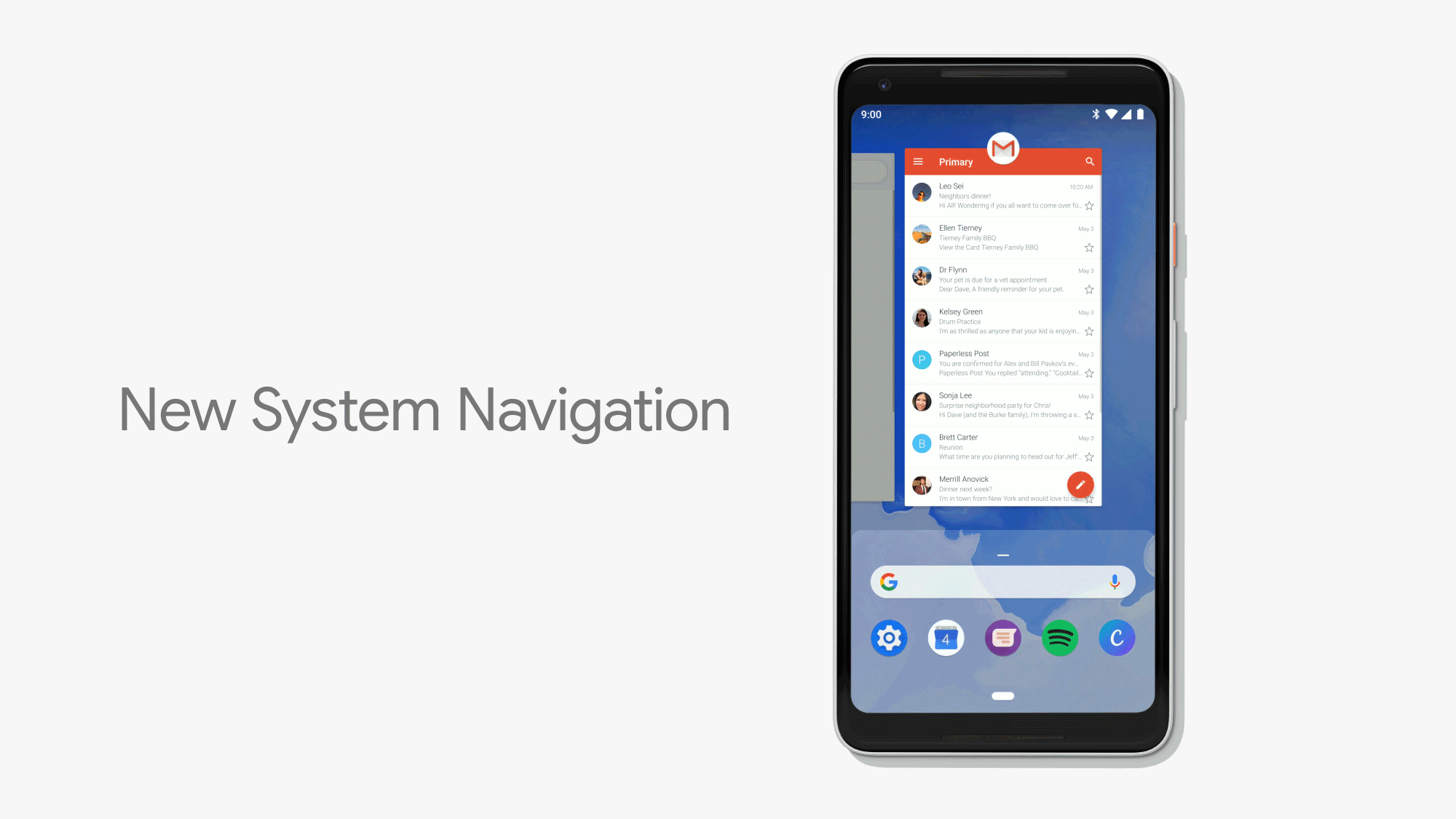 Android P will have a new system navigation interface that makes multi-tasking easier. Now, there will be a single home button that does all the functions of the previously available 3 buttons. New System navigation in Android P sure does make the UI simpler, which compliments the surge of all-screen phones in the market.
You can to swipe up from the bottom to see recent open apps along with five predicted app at the bottom of the screen. When swiping up for the second time, the app drawer will be opened.
7. Volume slider and screen rotation fixed
The volume slider is moved to the right side near the volume rocker. The ringer can be turned on and off through a software toggle button when you adjust the volume.
You'll also be able to manually control screen orientation. Whenever, you rotate the phone, a pop-up icon that enables screen rotation appears.
8. Android P time dashboard and Shush
Android P's dashboard to monitors how long you've been using your phone and shows your a pie chart of where did you spend your time the most (perhaps, a much needed reality check?).
It has a reminder that rings when you have been using an app for an extended period of time. So, in a way, your mobile now reminds you to take care of your eyes like your mom does. How caring. The Shush feature is a no Disturb shortcut when you turn your phone over on its front face. It not only silences alarms but also won't display visual notifications except from the contacts that you've exempted from this feature.
Featured Image Source: 9to5Google
Let's connect on Facebook, Twitter and Instagram.
Subscribe to never miss a post!