The Best and most Affordable one : Nikon D3400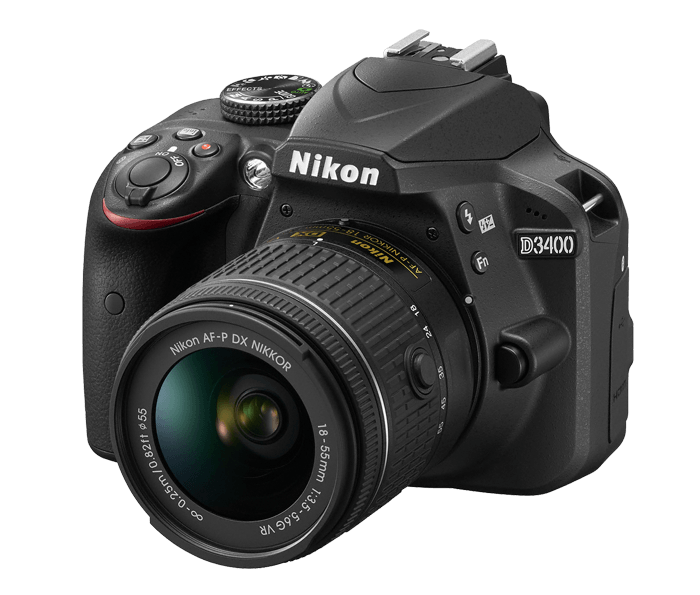 A built-in guide will help beginners learn the basics of advanced photography, and its lightweight design and variety of lenses make it a great camera to practice and grow with. Plus, it's relatively affordable at only $650. It has features you'd expect from a modern DSLR, such as Bluetooth connectivity, built-in flash, and a viewfinder. But unlike competitors, the Nikon includes a built-in guide that helps you learn how to use it, whether it's setting higher shutter speeds or lower light sensitivities. Like all entry-level cameras, you'll eventually outgrow it. But mastering the basics can take years, and the Nikon D3400 is an excellent and versatile option for those who want to invest in developing their skills. Plus, the camera will let you purchase lenses now that will work with more advanced Nikon in the future. The Nikon D3400 offers standard features including a viewfinder, built-in flash, and manual controls for adjusting anything from shutter speed to ISO. However, the standout feature of the Nikon D3400 is the Guide mode. This mode allows you to choose between "easy" or "advanced" operation settings, which will help you progressively learn core photography skills. The easy mode will adjust settings for common shots, including landscapes and portraits. Unlike other cameras with "scene modes" that take complete control over the settings for these subjects, the Nikon allows you to continue adjusting ISO. This allows you to see the effect your decisions about light sensitivity has on anything from a sunset to a close up of autumn leaves.
---
Alternative for those who want to shoot videos primarily : Canon EOS Rebel T6i
The Canon EOS Rebel T6i is a great alternative for those who want an entry-level DSLR for shooting videos. Unlike the Nikon, the Canon comes with an adjustable screen and a microphone port that makes it easier to capture video and audio. In terms of technical specs, it isn't as advanced as the Nikon D3400. It also doesn't have a built-in guide, which makes it a bit less intuitive to use. But with the right technique and practice, it won't disappoint.  The greatest advantage of the Canon over the Nikon is the inclusion of a swivel screen and microphone port, which makes for a better video recording experience. The swivel screen allows you to find better angles for photos and videos when holding the camera above your head or lower to the ground. In addition, the microphone port ensures that you'll be able to capture audio while filming, which is an integral part of videography. In addition, the Canon also adds support for the UHS-1 SD card standard, which is more effective at capturing large HD videos. However, we couldn't recommend the Canon over the Nikon for a couple of important reasons. First and foremost, the Nikon is simply easier to learn with — the presence of the Guide mode was hard to ignore. In addition, the Nikon has slightly better specs for taking photos, including a much more impressive sensor score on DxOMark. While the Canon fared better in video quality, we gave preference to cameras that shoot better images, since that is the main purpose of a DSLR. But for those who want a DSLR with a great video experience, the Canon is a solid bet. The extensive library of lenses also ensures that if you upgrade to a more advanced Canon in the future, you won't need to start a new lens collection from scratch
---
Alternative for the ones with less experience : Pentax K-S2
For those with a little camera experience, the Pentax K-S2 is another solid option. It outperforms the Nikon D3400 on paper with better specs, including a higher shutter speed. Like the Canon, it also offers an adjustable screen and microphone port. That said, it has a sharper learning curve than both the Nikon and Canon. In addition, there are more Nikon and Canon models on the market, which means that the Pentax won't give you access to as many camera and lens combinations. However, for those who are willing to look past more popular brand names and are willing to spend more time learning, the Pentax will still offer a great experience. On paper, the Pentax was even able to outperform our top pick, with higher shutter speeds and a higher max ISO. That means that with the right skill, the camera will be more effective at capturing subjects in motion and images that need a bit more light sensitivity like the night sky. One big downside of the Pentax K-S2 is that it's harder to learn with than the Nikon. The absence of a built-in guide or hints about different camera modes will make learning the ins and outs of the camera harder. In addition, it had the shortest battery life out of all our contenders, only lasting for 410 shots. But for those who have a little more knowledge about DSLRs and photography, the learning curve won't be as sharp. Like the Canon, the Pentax comes with a swivel screen and microphone port for a better video recording experience. Add to that the already impressive photos and the Pentax becomes a surprisingly solid choice for even the most loyal Nikon or Canon consumers — but perhaps not for beginners with little experience.
Want to know how these cameras were selected as the best ones? What was the basis of their selection? Click here to read!